Big Ol' Grump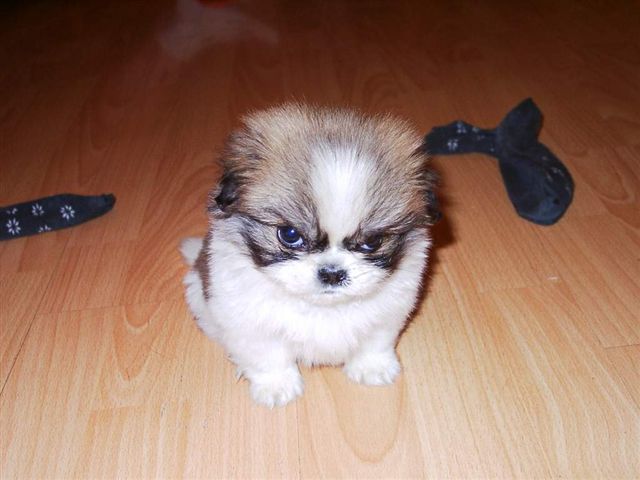 VA patients, in general, are the nicest group of people. However, when they aren't, they can be some of the grumpiest, nastiest people you come across.
Had a patient today that was upset that he had to wait before being seen.
Now, the way our clinics work, there's a general pool of patients, which means that they are not assigned a particular resident. The first resident done sees the next patient. And often, the rate limiting step (if I may borrow from oh so very distant chemistry classes) is the attending. There is one attending supervising several residents, so you hurry to see your patient and sit for a half hour waiting to present the case to the attending. And we, as the residents, never know if, when, and how long patients have been waiting. Which means that every time you step into a new room, there's a possible grumpy patient waiting for you.
Most VA patients are extremely nice about waiting, and some are a little grumpy, but get over it when you apologize. Not Mr. Grumpy. Even after multiple apologies, he revelled in the scowl pasted on his face and hands across his chest. All his answers to questions were terse and would be somehow redirected to the fact that he had been kept waiting.
Me

: Have you had any previous skin cancers?
Mr. X
: What do you think?
Me:
Okay, well let's take a look at the skin cancer that was biopsied last time. Where was the exact location?
Mr. X:
How should I know? You're the doctor.
Me:
(After finding the spot) Mr. X, there's a couple of things we could do today. We could do XYZ or ABC, both of which are equally effective at getting the rest of the cancer cells out.
Mr. X:
(Silent, glaring.)
Me:
Mr. X? Which would you prefer?
Mr. X:
How should I know? I don't know how your systems work. Apparently an appointment for X time means you'll be seen at Y time.
Me:
(Huge inward sigh...)
That was just part of it. He kept it up the ENTIRE visit. And interspersed it with threats of leaving. He was like a sulking five year old who didn't get what he wanted - except more wrinkly.
Now, I'm not saying he had no right to be angry. Anyone kept waiting would be upset. But we're all adults. Things often don't go as planned, but that doesn't give us an excuse to pout all day. And if pouting helped the situation, I would encourage him to pout more. But all it did was worsen his already foul mood and dampen the spirits of anyone who came in contact with him. Pouting couldn't change the fact that we were already late in seeing him, nor would it help us be more timely the next time we saw him. There's a fine line between feeling an emotion and allowing it to run amuck and negatively affect social interactions/relationships...
It's actually really sad to work with these patients. Patients like Mr. Grumpy and other "difficult" patients (ie borderline personality disorder) become victims caught in a vicious cycle of their own creation or perpetuation. They are not "nice" to others, so others stay away from, or become angry with them. Their perception of the world becomes one filled with angry people who either don't want anything to do with them or don't treat them well, which makes them even more surly/difficult to get along with... what's the solution? How can you help someone like that??